Expertise: Blue and Green Technology
We are excited to apply our expertise in aerospace sensor development towards blue and green technology and help contribute to a more sustainable world. Our advanced knowledge in optics, physics, chemistry, and biology in conjunction with rigorously tested engineering design can provide novel solutions to global sustainment challenges, ranging from water, air, soil, and life.
A Drone-Based System for Measuring Nitrous Oxide Emissions from Agricultural Fields

In response to the U.S. Department of Energy ARPA-E's SMARTFARM Objective of seeking technology solutions capable of producing effective quantification of energy feedstock-related nitrous oxide (N2O) emissions, Michigan Aerospace proposed a drone-based solution, named DroN2O, that measures N2O flux with high spatiotemporal resolution. A wind LiDAR combined with an optical open absorption cell are used to derive the N2O flux and the total N2O emissions per season with a low system-level uncertainty (< 200 g N2O/acre equivalent to <~60 kg CO2/acre) and variation (standard error <20%).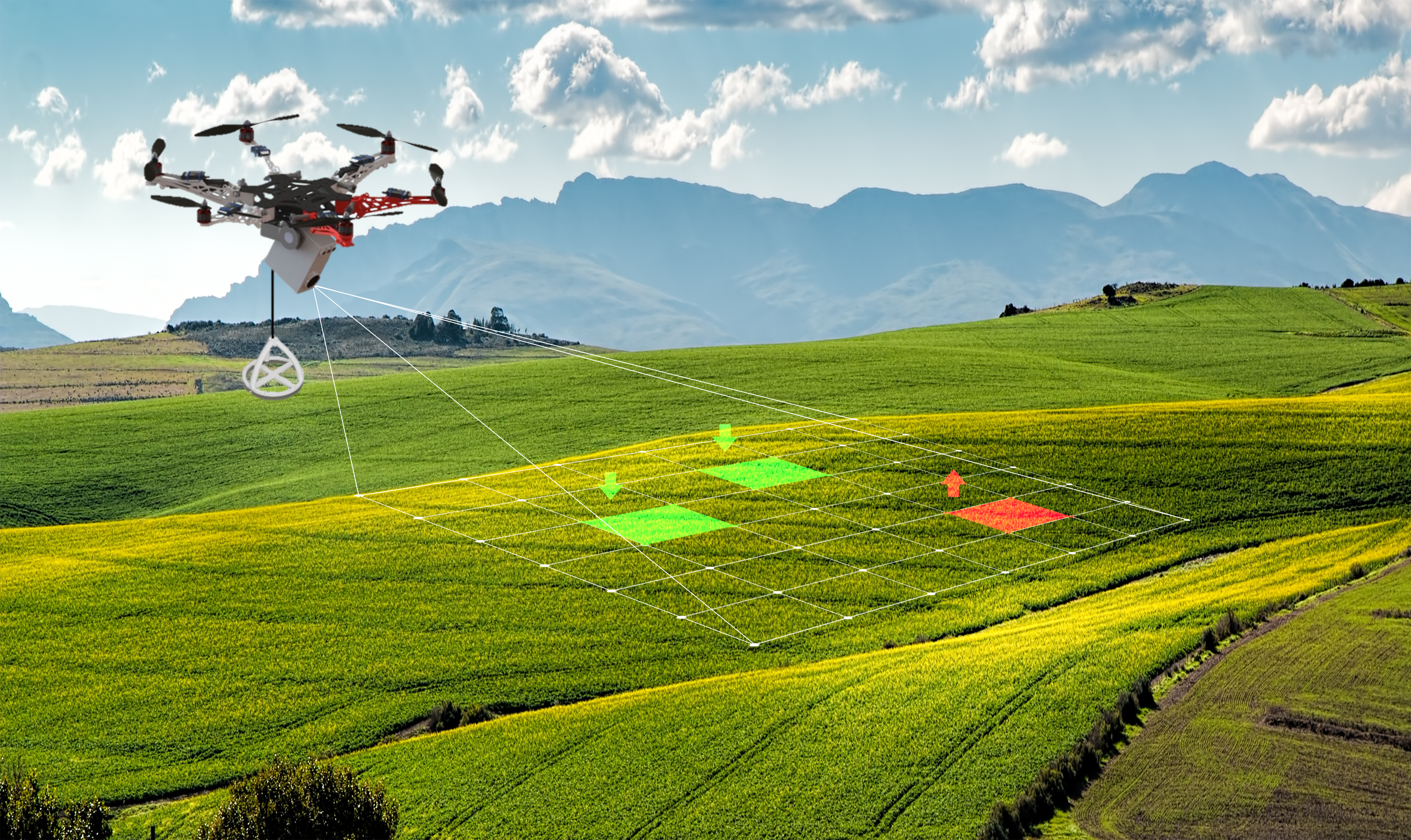 Research and development scope
Sensing modality/modalities design, build, and testing, along with their power source, communication, any onboard computation hardware, and packaging
System design, deployment, calibration, cost, and lifetime
Data fusion, statistical analysis, models, etc., to be used to produce the key output of N2O (g CO2e/acre)
Uncertainty estimation and management
Field deployment and demonstration
Technology to market, customer discovery, and establish advisory board
DroN2O provides unique performances and capabilities
Deployable high precision laboratory-grade sensor → minimizes measurement uncertainties to maximize revenue

High temporal and spatial resolution → capable of measuring hot spots and hot moments
Low SWaP-C → mobile, drone operation, increase user's profitability
Upgradable drone functionality → invasive species, crop monitoring, soil moisture
Collaboration Opportunities & Needs
Partnering with agriculture experts on solving sustainable farming issues or adjacent agriculture challenges
Collaborating with carbon marketers or aggregators
Funding support for engineering and pilot program efforts
Michigan Aerospace works with the Department of Energy and Environmental Protection Agency to develop a novel non-submersible water quality sensor to measure stormwater.
A strong need exists for monitoring urban stormwater with sensors that are wireless, easy to use, and low in cost.  Such sensors would enable cities to deploy dense sensor networks to monitor stormwater conditions in the highly variable topography urban landscapes present.  While many water sensors exist, most must be continuously submerged to make a measurement. Michigan Aerospace Corporation is developing a novel LiDAR sensor that can measure water surface height, turbidity, and flow speeds from above the water surface.  By making these measurements without ever needing submersion, the  LiDAR avoids the typical challenges submerged sensors face: biofouling, corrosion, and labor intensive installation and maintenance.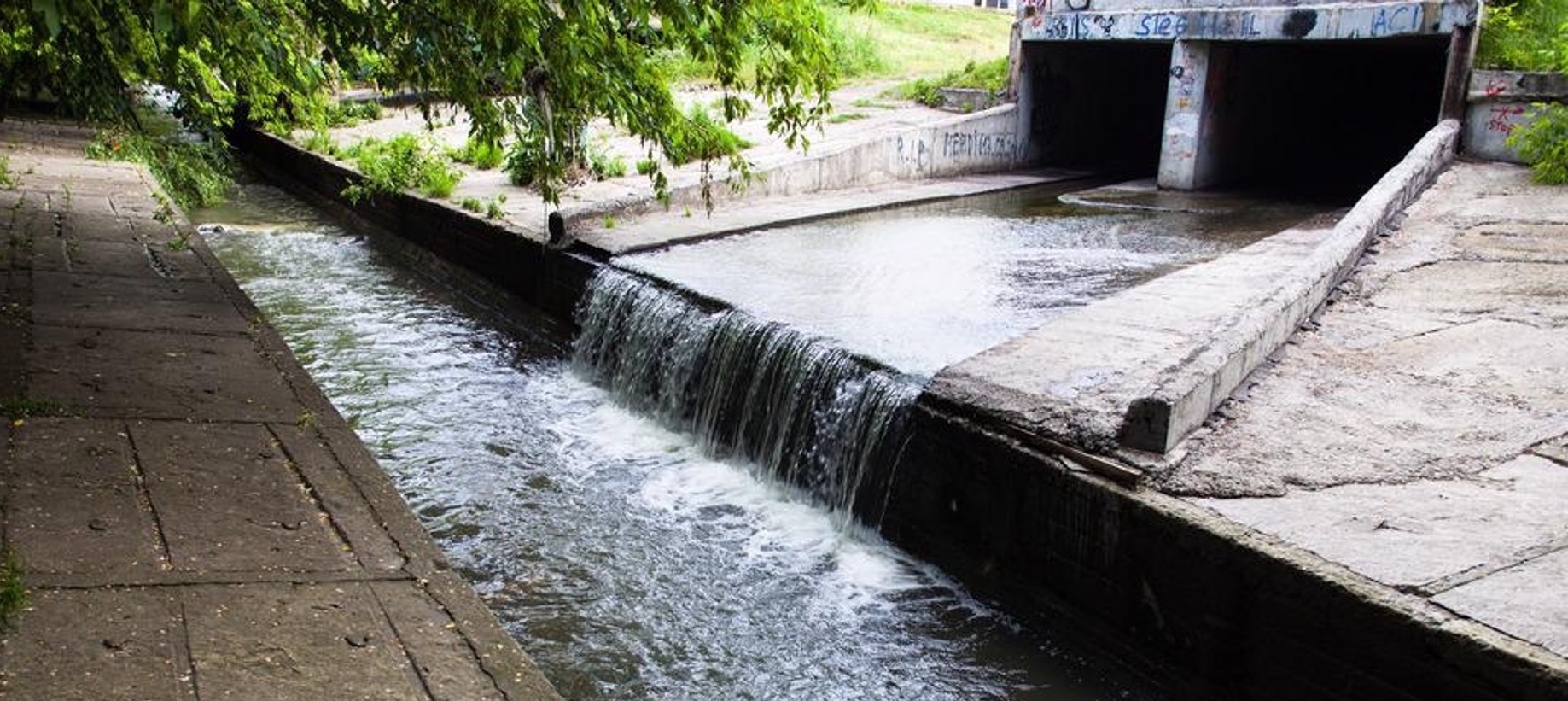 Egret value propositions
Contact-less measurements
Dramatically improves product lifetime and reliability – avoid biofouling and debris build-up
Decrease installation and maintenance costs
Low SWaP-C: IoT/network, mobile, drone operation
Depth resolution: minimize the need for modeling and assumptions based on surface or point measurements
Multiple data products from a single measurement: minimize the cost of additional sensor systems and data/system integration
Applications of a non-submersible water quality sensor
Stormwater Management

Urban flooding ripple effects -  sinkholes, flash floods, collapsed roadways, extensive property damage, inflow into sanitary systems
From 2004 to 2014, urban flooding in the U.S. alone cost communities an annual average of $9 billion in direct damages and 71 deaths.

Wastewater Treatment

The EPA estimates that the nation's wastewater treatment facilities will need $271 billion over the next 20 years to meet the CWA's water quality objectives

Wastewater Epidemiology

Weekly, triweekly, or daily basis sampling occurs at more than 1100+ sampling sites across the United States
Collaboration Opportunities & Needs
Partner with water management to deploy prototypes for reliability and stress testing
Conduct pilot programs and data integration to demonstrate and verify value proposition for customers
Funding opportunities to continue engineering and pilot program efforts
A low SWaP-C hyperspectral camera to spectrally measure water content at depth
Michigan Aerospace Corporation is proposing to design, build, and test a fluorescence LiDAR instrument that can provide high spatial and depth resolution information about Harmful Algal Blooms (HAB), either as a fixed monitoring station or from drones.
HAB events are a health risk to people and wildlife and are disruptive and costly to recreation and tourism.  Monitoring and responding to HAB events require knowledge of the presence, movement, and distribution of cyanobacteria in the water body.  Current monitoring approaches use passive spectral sensing, in situ sensors, and sample analysis.  Sample collection and analysis is the most informative as it allows for taxonomic identification of the exact cyanobacteria causing disruption but is highly labor intensive.
Fluorescence LiDAR measures both distance to the target as in conventional lidar but also measures the laser induced fluorescence emission vs depth of any optically active materials suspended in the water column such as chlorophyll and phycocyanin.  Laser induced fluorescence spectra can then be analyzed to differentiate the organism type.  The data provided will inform the presence, location, and movement of HABs in environments of interest.  Such can be used to warn the public about health risks, guide response teams about where to apply mitigation measures, supplement remote sensing data with ground truth information, and support HABs modeling/forecasting. At no additional cost, the acquired fluorescence data can also be used for the identification and distribution of oil spills.

Value Propositions
Out of water measurement → dramatically improves product lifetime and reliability; facilitates installation and maintenance
Low SWaP-C → IoT/network, mobile/drone operation, remote
Depth resolution → minimize the need for modeling and assumptions based on surface or point measurements
Spectral resolution → fluorescence measurement, identification of algae fluorescence signature
Collaboration Opportunities & Needs
Partner with water management to deploy prototypes for reliability and stress testing
Conduct pilot programs and data integration to demonstrate and verify value proposition for customers
Funding opportunities to continue engineering and pilot program efforts